The Clan of the Cave Bear was a film adaptation of the novel by the same name. It was produced by Warner Bros and released at 17 January 1986. The film follows the plot of the novel, but large sections are skipped or fused.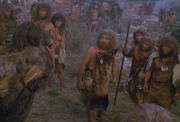 At a time in prehistory when Neanderthals shared the Earth with early Homo sapiens, a band of cave-dwellers adopt blond and blue-eyed Ayla, a child of the "Others". As Ayla matures into a young woman of spirit and courage (unlike other women of the clan), she must fight for survival against the jealous bigotry of Broud, who will one day be clan leader.
Production
Edit
It was filmed on multiple locations in the Canadian Rockies, namely Cathedral Provincial Park, MacMillan Provincial Park and Okanagan. It was a precursor to the many Hollywood films that would film in Canada soon after.
The music score of the The Clan of the Cave Bear was created by Alan Silvestri.
Reception
Edit
Because the film cost US $15 million to produce and brought in only US $1.9 million domestically, it is considered a box office flop.[1]
IMDb gives the film a 5.2 (out of 10) based on 4,170 ratings.[2]
During the development of Meet Ayla someone asked Jean M. Auel about the film that was made of The Clan of the Cave Bear. Auel confirmed that she hated the film, she actually sued the company that made it because she was supposed to have been allowed a say in how it was made. She did say that she would love to see the series made into films but that it probably isn't something she will let happen, she is going to leave the decision up to her children when she is gone.[3]
The movie is also one of Bart the Bear's earliest roles.
References
Edit
↑ IMDb, [http://www.imdb.com/title/tt0090848/business?ref_=tt_dt_bus Box office / business for The Clan of the Cave Bear], information retrieved on 2014-01-14.
↑ IMDB, The Clan of the Cave Bear, information retrieved on 2014-01-14.
↑ Sarah (2011). Hodder Event: Bringing Ayla to Life - 28th February 2011. feelingfictional.com.