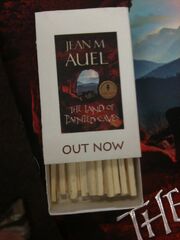 To promote the release of The Land of Painted Caves the Hachette Book Group produced matchboxes printed with the book's cover. Leading up to the release, these boxes offered for free at sale stands in Dymocks Booksellers stores as a take-home reminder of the book release.
On the release day, March 29, 2011, these boxes were handed out for free by couples dressed like Ayla and Jondalar in multiple locations in Australia.
Hachette Book Group statement
Edit
Matchbox
Edit
The front of the matchbox is printed with the book's front cover. The book cover from the International version was used. It also featured the Meet Ayla icon. Under the cover the words "OUT NOW" are printed in Arial.
The side of the match boxes featured the sentence:
"Their love changed the course of history..."

The words were printed in Arial on a red background.
The matches itself do not contain an ignitable "head". The description explained: "Ofcourse, in remaining true to the book we had to make sure the matches were historically accurate to that period of time."

Ayla and Jondalar cosplay
Edit
The matchboxes were handed out by couples dressed up in Caveman costumes, on multiple locations in Australia. The couples consisted of a blonde male and female. The costume consisted of two pieces of grey fur clothing. One of them was also wearing a necklace.

Melbourne
Edit
The team that created the matchboxes and costumes:[1]
Executive Creative Director: Josh Moore
Creative Director: Chad Mackenzie
Art Director: Leo Barbosa
Copywriter: Marc Bauche
Producer: Corinne Porter
Account Director: Alex Tracy
References
Edit
↑ Best Adds on tv, The Land of the Painted Caves: Matchbox. Information retrieved at 2014-01-29.